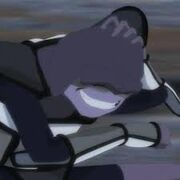 Razzle

Alliance:

Saiyans

Species:

Unknown

Maximum Power level:

30,000

Appearances:

Dragonball Absalon
Intentions
Razzle came with his leader, Cyborg, to Earth, with the intention to remove the Saiyans that lived there.
Personality
Razzle appears to be a genuinely rude and condescending induvidual, which, at times, can get him into much trouble. Razzle also likes to sing songs to himself quite often.
Ad blocker interference detected!
Wikia is a free-to-use site that makes money from advertising. We have a modified experience for viewers using ad blockers

Wikia is not accessible if you've made further modifications. Remove the custom ad blocker rule(s) and the page will load as expected.